We have raised
$100.00
of our goal.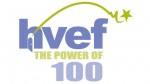 The Power of 100, the HVEF's annual campaign, imagines what a difference we can make if 100 or more families donate $100 each, or $10 per month, for the school year.
---
Join The Power of 100  with an online one time donation of $2,500, $1,000, $500, $300 or $100 or a monthly donation or click here to download the form to contribute by check. 
For 2019-2020, "The Power of 100," the annual appeal of the Hopewell Valley Education Foundation, is challenging the community to join us to support HVRSD's work towards Next Generation Science Standards in all 6 Hopewell Valley Schools.  These standards will transition from the previous science curriculum that most of us experience to a process that teaches students to apply the knowledge they have gained to real world situations, communicate & collaborate with others to solve problems, and integrate skills such as problem solving and critical thinking not just into science, but into every aspect of their lives. This is important work, and we need your help!
Please join us by becoming our partner in funding the groundbreaking district-wide initiative to bring new methods of teaching and learning that complement time-tested traditional techniques. Your generous support will go directly to the purchase of hands-on technology and the instruction necessary for our educators to use technology effectively.