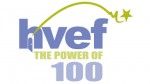 The Power of 100, the HVEF's annual campaign, imagines what a difference we can make if 100 or more families donate $100 each, or $10 per month, for the school year.
---
We are kicking off our 2020-2021  Power of 100 campaign. This year your P100 donation will support programs promoting equity in HVRSD as well as technology, outdoor learning spaces, and innovative initiatives to provide excellent education during the pandemic.
When school buildings closed in March, the HVEF coordinated with HVRSD to determine how best to help our schools, teachers, and students. Past HVEF projects -- particularly in the areas of technology and outdoor learning spaces -- have been helping teachers respond to new educational challenges. In addition, under the leadership of a Central High School teacher, the Union Fire Company borrowed the 3D printers that we funded to make thousands of face shields to protect area first responders. And we established a fund to help the Mobile Food Pantry by providing by supplying non-food items to families in need.

Join our 2020-21 Power of 100  with an online one time donation of $2,500, $1,000, $500, $300 or $100 or a monthly donation or click here to download the form to contribute by check.
Imagine what we could do, if just 100 families donated $100 or more?!
Thank you for  all you do to support Hopewell Valley students and teachers.