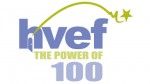 The Power of 100, the HVEF's annual campaign, imagines what a difference we can make if 100 or more families donate $100 each, or $10 per month, for the school year.
---
Join The Power of 100  with an online one time donation of $2,500, $1,000, $500, $300 or $100 or a monthly donation or click here to download the form to contribute by check. 
Please join us by becoming our partner in funding grants throughout the district to increase creativity and innovation and strengthen the teaching, learning, and enrichment that happens in the public schools across the Hopewell Valley Regional School District (HVRSD). Your generous support will go directly to support projects that enable teachers and administrators to explore new ways to help our schools provide an exceptional and supportive education for all students.